Shoemaker Allen Edmonds Aims to Reach Younger Men By Touting Old-School Quality
By Christina Binkley
The Wall Street Journal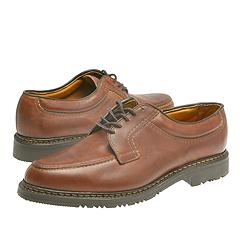 When it comes to shoes, conventional wisdom holds that most men today respond to fresh design, splashy advertising and styles conceived for younger feet.
Since turning itself into a high-fashion brand, Coach has been on a tear. Gucci and Prada have gobbled up the markets for luxury loafers and bags. In June in Milan, sexy-shoe designer Brian Atwood will show his first collection -- men's footwear -- as creative director for Swiss shoemaker Bally, which is seeking more fashion-conscious shoppers these days.
Then there's Allen Edmonds. Oxfords, tassel moccasins, penny loafers. Now here's a brand in need of resuscitation: eighty-five years old, with flat revenue and an aging boomer clientele.
Its new private-equity owners, Goldner Hawn Johnson & Morrison Inc., which bought an 86% stake last year, are now advocating an overhaul. But instead of following the rest of the high-fashion accessories industry, Allen Edmonds is digging in its heels. With a wingtip and a prayer, it's expanding with a strategy to make new assets of old-world service and quality...
Read more at
The Wall Street Journal