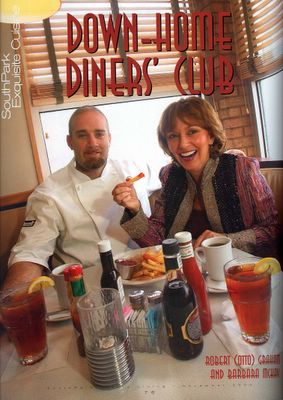 A picture of Robert 'Otto' Graham and Charlotte TV personality Barbara McKay in the former Knife & Fork restaurant in east Charlotte, NC (SouthPark Luxury Living, November 2004)
I'm a big fan of traditional Southern cooking, especially when it's done well. In November, I read in
SouthPark Luxury Living
magazine about this great restaurant in Charlotte called Otto's Knife & Fork run by chef Robert 'Otto' Graham, a veteran of Upstream and several other great local restaurants, who put a new spin on traditonal comfort foods at a new establishent in the former Knife & Fork Diner at the corner of Sharon Amity Road and Independence Boulevard.
Last night I decided that I wanted to try the place, so Mom and left SouthPark after a night of shopping and headed over to the restaurant to find that it recently closed for good. I was disappointed, especially after we ended up eating at a T.G.I. Friday's nearby. So when I got home, I did some internet research and found this at the Charlotte Observer website.
[H] ere's what Otto Graham has to say about his recently closed Knife and Fork, about which [the paper has] fielded a good many calls and e-mails: "It's not that we gave up. It's that basically, for this side of town, for the concept we wanted to do, it just wasn't working." He'd hoped for a strong holiday season, but says business slowed after Thanksgiving. "The concept is great, but the price point -- that's why there's not that many of these concepts around. That quality of food...." He says he's creating a contact base; e-mail him at
ottoskandf@bellsouth.net
.
I worte Otto and gave him my condolences. Maybe his next venture will be more sucessful.
The next mission to find comfort food in the Queen City will be to
Price's Chicken Coop
. This somewhat famous eatery (featured in the movie 'Shallow Hal') is a takeout place in the inner city that closes at 6:00 PM, so it'll have to be lunch or early dinner when I go. I've heard the chicken is out of this world, and I love fried chicken, so it seems like a good idea to go next time in Charlotte earlier in the day.