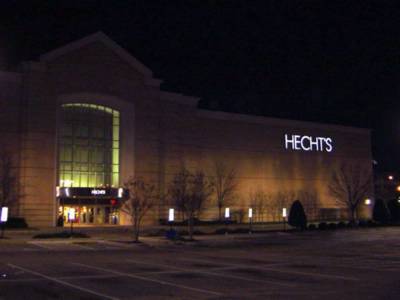 Hecht's, Crabtree Valley Mall, Raleigh, North Carolina 12/30/04
Hecht's at Crabtree Valley Mall opened this 180,000 square foot, two-level location in 1995. It was previously located in a smaller space in the mall it bought from the parent company of Thalhimers in late 1990. That store caried the Thalhimers name briefly and was rebranded in 1992. After this store opened, the old Thalhimers/Hecht's became Lord & Taylor, which is currently in the process of closing due to poor sales.
Poor sales has never been this store's problem, however, as it consistently is one of Hecht's most productive locations. It is also one of the chain's most striking architctecturally.