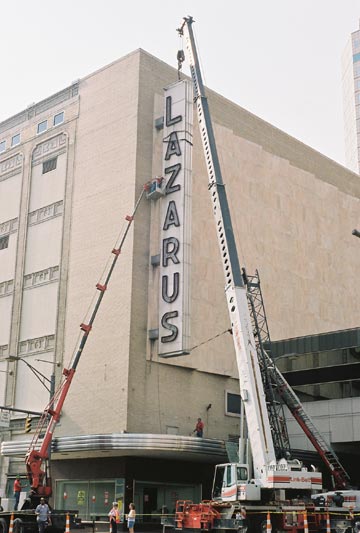 Sandra Jones
Chicago Tribune


Scarborough Research tracked shoppers at Rich's in Atlanta, Goldsmiths in Memphis, Bon-Marche in Seattle, Lazarus in Columbus, Ohio, and Burdines in Miami as each store's name changed--first hyphenated to include the Macy's name in August 2003 and then converted to solely Macy's in March 2005.
SEATTLE
A marked decline in shoppers occurred there, where Bon-Marche has been around since 1890. Some 41 percent of consumers said they shopped at Macy's in 2006, down 10 percentage points from 51 percent in 2002 when it was simply Bon-Marche.
COLUMBUS, OHIO

In the same time frame, in the
hometown of Lazarus
, the percentage of shoppers frequenting Macy's fell 9 points to 30 percent.
MEMPHIS
In Goldsmith's base town, the percentage fell 8 points to 35 percent as Macy's put its nameplate on the local stores.
GREATER ATLANTA
Macy's has had a presence since the 1980s, and Rich's has been a fixture for more than a century. Some 36 percent of consumers said they shopped at Macy's in 2006 compared with 39 percent who shopped at Rich's-Macy's in 2004. In 2002, when both stores operated side by side, 46 percent of shoppers said they frequented either Rich's or Macy's. When asked if they specifically visited one or the other, 41 percent said they shopped at Rich's and 28 percent said they shopped at Macy's.
MIAMI

At Burdines, another market where Macy's has been around for two decades, the renaming appeared to have little effect. Of those shoppers surveyed, 47 percent said they shopped at Macy's in 2006, unchanged from the 47 percent in 2004 that shopped at Burdines-Macy's. In 2002, 57 percent surveyed shopped at either Burdines or Macy's. When asked to break it out, 51 percent of shoppers frequented Burdines and 24 percent visited Macy's.
The sample size of the surveys ranged from 2,000 to 5,000. The estimated margin of error is no more than 3 percentage points.