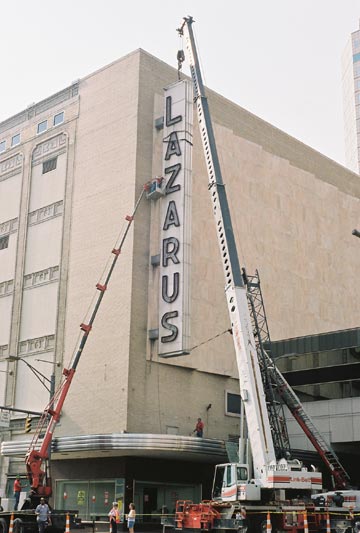 Note from Steve: Be sure to check out Michael Meckler's take on this issue at Red-State.comDecision to drop 'Lazarus' not a hit in central Ohio.
Jeffrey Sheban
THE COLUMBUS DISPATCH


COLUMBUS, Oh. - Macy's is not as big a draw in central Ohio since the chain's name was changed from Lazarus last year, market research indicates.
In 2005, customer visits to Macy's in the Columbus market declined 4.5 percentage points, or by more than 50,000 people, according to the independent marketresearch firm Scarborough Research.
The drop was steeper than Lazarus experienced during the previous five years combined.
Parent company Federated Department Stores changed the Lazarus name on six department stores and two furniture stores in central Ohio in March 2005, ending a 154-year run for a brand that had become synonymous with shopping in Columbus. The first Lazarus store opened in 1851 Downtown and grew into a regional chain of more than 40 stores in Ohio and four other states.
The change was part of Federated's strategy to retire regional names, such as Bon Marche, Burdines, Goldsmith's, Lazarus and Rich's, in favor of a single national brand: Macy's.
Federated also is converting 400 stores acquired last year from May Department Stores, including Kaufmann's, to Macy's. By the end of the year, the company plans to operate 850 stores, most of them under the name Macy's.
Chicago-based retail analyst James E. Dion said the Columbus market-share data, the first he's seen compiled, suggests to him that Federated might have misjudged consumer sentiment.
"I think it's a huge warning flag," he said. "The customers are basically saying, 'We liked our hometown department store. We liked Lazarus. We trusted it.' "
Shopper Libby Benson agreed.
"I shopped Lazarus for many years. I went every time I had a chance," said Benson, a model for Lazarus in the 1970s.
While she continues to shop at Macy's, she's spending more time in rival Nordstrom and specialty shops.
"Since Lazarus left, I kind of shop around," she said.
According to Scarborough Research, Benson is not alone. Lazarus foot traffic declined modestly between 2000 and 2004, the last full year for the Lazarus name. Nearly 320,000 central Ohioans, or 28.7 percent of adults, said they visited a Lazarus in 2000.
By 2004, the number had declined to nearly 306,000, or 24.3 percent of adult shoppers.
A year later, less than 252,000 adult shoppers, or 19.8 percent of the market, said they visited Macy's.
"Normally, you would not expect that level of decline," Dion said. "Lazarus absolutely had value as a name, and the customer is saying one size does not fit all."
Store numbers don't account for it. Since 2001, Lazarus has closed five central Ohio stores: Downtown, Heath, Henderson Road, Northland and Westerville. Since 1997, it has opened four: Easton, Polaris, the Mall at Tuttle Crossing and Tuttle furniture. The company has said the new stores have more than twice the sales volume of those they replaced.
Other department stores, including Sears and JCPenney, have lost market share in the period, while Target and Wal-Mart have gained share. Newcomers in the market — Kaufmann's, Kohl's, Nordstrom, Saks Fifth Avenue and Von Maur — also have siphoned customers from Macy's.
Federated spokesman Jim Sluzewski said the Cincinnatibased company doesn't disclose customer traffic, and he declined to comment on the Columbus data.
But he said it's too soon to judge the drawing power of the Macy's brand, which will not be marketed aggressively on a national basis until the fall, when all the May stores are rebranded.
"At this point, the customer is waiting to see," Sluzewski said. "There's always concern when we change names because change is difficult. But customers always tell us it's what's inside the store that's important with them."
That's how shopper Michael Sanders of Gahanna sees it. The 35-year-old father of two hasn't scaled back his Macy's shopping compared with Lazarus because the new stores meet his needs.
"To me, it's the same," he said, leaving the Macy's at Easton last week with a purchase. "The only thing that changed is the sign on the outside and who I send my payment to."
Neva Kraatz of Reynoldsburg sees more differences between the two, however, and prefers Lazarus.
"Since the change, I'm finding less brand-name assortments and more private labels at Macy's," she said. "They tend to get more vanilla."
Kraatz also misses the high level of community involvement and philanthropy of a homegrown department store.
"Local businesses give back to the community," she said. "Given the choice of two stores right next to each other, I'd definitely go to the one I felt supported the community."